Dogo Argentino Irkı Bir Köpekte Görülen Viseral Leishmaniasisin Patolojik Bulguları
Viseral Leishmaniasisin Patolojik Bulguları

Özet Görüntüleme: 37 /

PDF İndirme: 20
Anahtar Kelimeler:
Canine Leishmaniasis, Dogo Argentino, Pathology
Özet
A six-year-old, Dogo Argentino male dog, which had been treated for Leishmaniasis for 6 months, was brought to Burdur Mehmet Akif Ersoy University Veterinary Faculty clinics with complaints of partial paralysis, vomiting, lethargy, anorexia and deterioration in general condition. Due to the death of the dog during the treatment, it was sent to the Department of Pathology for necropsy. Macroscopically; The liver and spleen was enlarged and had a granular surface. In the kidney, uroliths were found in the calyx renalis. Microscopically, multifocal granulomatous hepatitis, splenitis, focal myelitis and multifocal nonsuppurative glomerulonephritis were observed.; Leishmania spp. were detected cytoplasm of macrophages in the liver kidney,spleen and medulla spinalis with  Giemsa staining. Biochemical analyzes of urolites were determined to be of xanthine origin. In this study, a case of visceral Leishmaniasis associated with Xanthine Urolithiasis in a Dogo argentino dog was examined with its clinical, macroscopic and microscopical findings in detail.
Referanslar
Baneth G. Canine leishmaniasis. In Greene CE, editor. Infectious diseases of the dog and cat. 3rd ed. St. Louis (MO): Saunders/Elsevier; 2006. p. 696–8.
Duprey ZH, Steurer FJ, Rooney JA, Kirchhoff LV, Jackson JE, Rowton ED, Schantz PM. Canine visceral leishmaniasis, United States and Canada, 2000-2003. Emerging infectious diseases. 2006;12(3):440-6. doi: 10.3201/eid1203.050811.
Vianna, V.L., Takiya, C.M. and de Brito-Gitirana, L. Histopathologic analysis of hamster hepatocytes submitted to experimental infection with Leishmania donovani. Parasitology Research, 2002;( 88): 829-836. doi: 10.1007/s00436-001-0577-0.
Tafuri, W.L., Rosa de Oliveira, M., Melo, M.N. and Tafuri, W.L. TAFURI, Wagner L., et al. Canine visceral leishmaniosis: a remarkable histopathological picture of one case reported from Brazil. Veterinary parasitology, 2001; 96(3): 203-212. doi:10.1016/S0304-4017(00)00436-2.
Özensoy, S., Ozbel, Y., Turgay, N. et al. Serodiagnosis and epidemiology of visceral leishmaniasis in Turkey. The American journal of tropical medicine and hygiene, 1998;59(3), 363-369.
Ikeda FA, Laurenti MD, Corbett CE, et al. Histological and immunohistochemical study of the central nervous system of dogs naturally infected by Leishmania (Leishmania) chagasi. Braz J Vet Res Anim Sci.2007; 44(1): 5-11.
Lima VM, Gonçalves ME, Ikeda FA, et al.Anti-leishmania antibodies in cerebrospinal fluid from dogs with visceral leishmaniasis. Braz J Med Biol Res.2003; 36(4):485–489.
Solano-Gallega L, Morell P, Arboix M, et al. Prevalence of Leishmania infantum infection in dogs living in an area of canine leishmaniasis endemicity using PCR on several tissues and serology. J Clin Microbiol. 2001;39(2):560–5633. doi:10.1128/JCM.39.2.560–563.2001
Benderitter, T., Casanova, P., Nashkidachvili, L. et al. M. Glomerulonephritis in dogs with canine leishmaniasis. Annals of Tropical Medicine and Parasitology 1988;82(4): 335–341. doi:10.1080/00034983.1988.11812255
Ling GV, Ruby AL, Harrold DR et al. Xanthinecontaining urinary calculi in dogs given allopurinol. Journal of the American Veterinary Medical Association 1991;198(11): 1935–1940. PMID: 1874670.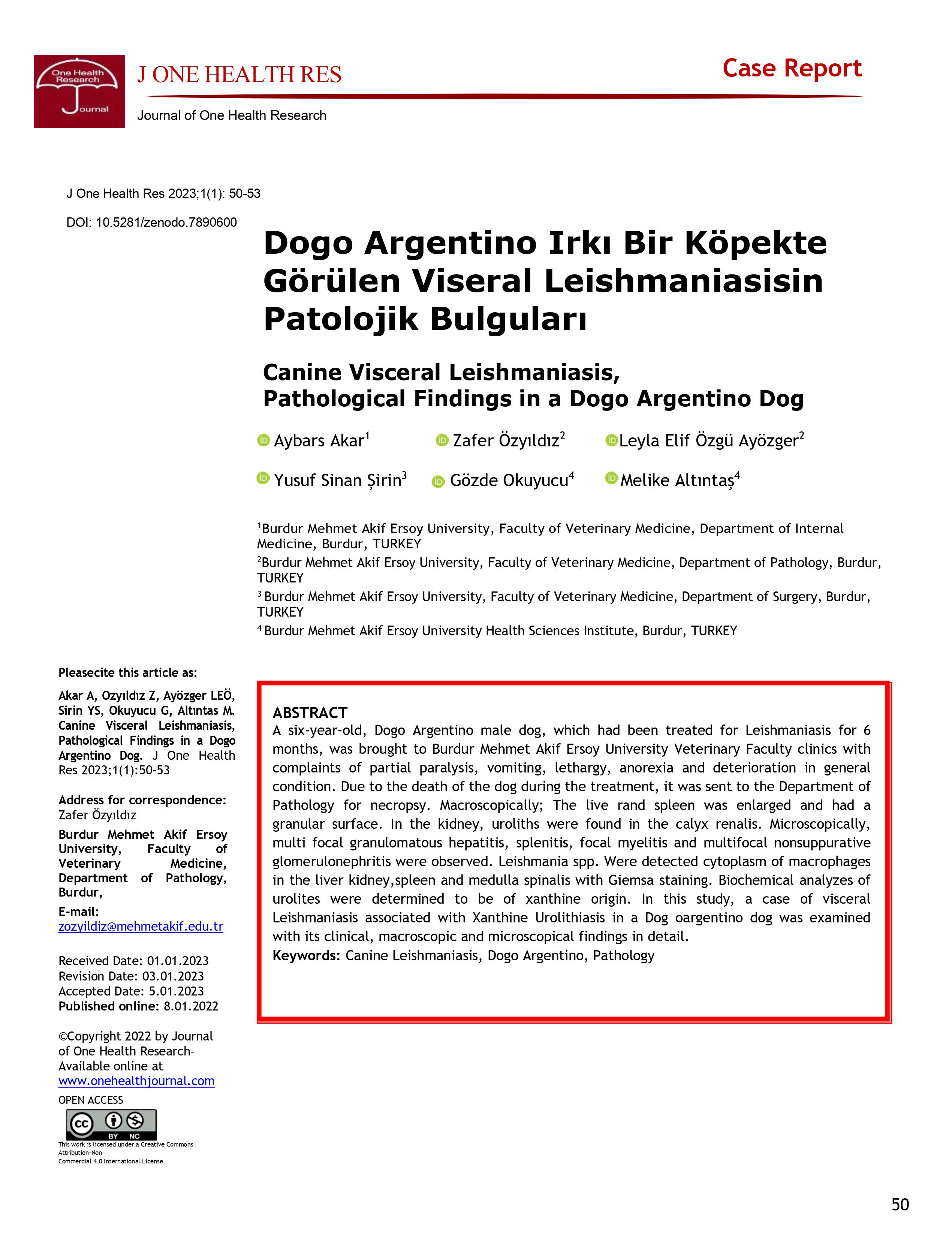 İndir
Nasıl Atıf Yapılır
Özyıldız, Z., AKAR, A., AYÖZGER, L. E. Özgü, ŞİRİN , Y. S., OKUYUCU, G., & ALTINTAŞ, M. (2023). Dogo Argentino Irkı Bir Köpekte Görülen Viseral Leishmaniasisin Patolojik Bulguları: Viseral Leishmaniasisin Patolojik Bulguları. Journal of One Health Research, 1(2), 50–53. https://doi.org/10.5281/zenodo.7890600
Lisans
Telif Hakkı (c) 2023 Journal of One Health Research
Bu çalışma Creative Commons Attribution 4.0 International License ile lisanslanmıştır.